The Master's degree program in the Department of Biomedical Engineering (BME) at Columbia University offers world-class biomedical engineering education and opportunities for cutting edge research and innovation. The mission of the Master's program is to prepare talented students from diverse backgrounds to become innovative, socially responsible leaders in engineering, science, and medicine. Graduates from our Master's program have landed top positions in the medical device industry and at engineering consulting firms, have founded their own medical technology companies, and have gone on to advanced graduate studies in engineering and professional studies in medicine. The Master's degree program in the Department of BME at Columbia University offers a surprising mix of the intellectual atmosphere of an Ivy League institution and the sense of community of a small college, enriched by the diversity of New York City.
Research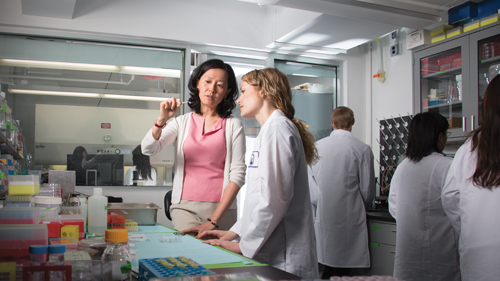 ---
This flexible program allowed me to sample many fields underneath the biomedical engineering umbrella while having the opportunity to conduct mentored research either for credit towards my degree or as a volunteer. The coursework I completed and research experience I received were what prepared me best for the life of research I have chosen to pursue and helped build the strong resume I needed to apply to top tier doctoral programs.
—Christian Aurup, MS '15, PhD candidate Columbia University
---
The Master's degree program in the Department of BME prepares students for research activities at the highest level. 90% of our Master's students participate in cutting edge research during the course of their degree program. The Department of Biomedical Engineering also maintains a strong partnership with the Columbia University Medical Center, fostering interdisciplinary collaborations that add to the quality and strength of the program. Research areas of particular interest include biomechanics, cellular and tissue engineering, artificial organs, regenerative medicine, auditory biophysics, biosignals and biomedical imaging, point-of-care diagnostics, and neural engineering. The Master's degree program is well equipped to prepare students for admission to highly competitive doctoral programs across the United States, as well as employment within industry fields of biotechnology and medical devices.
Innovation and Entrepreneurship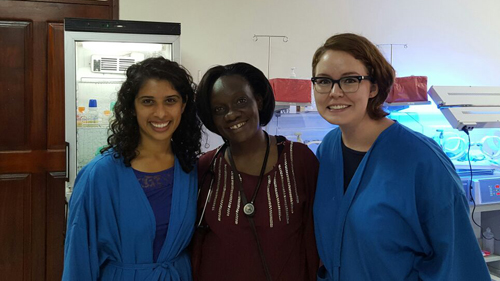 ---
I didn't start Columbia expecting to be involved in entrepreneurship, but after going through the biodesign process in a Masters Biomedical Design course, the idea of entrepreneurship was very exciting. We made the decision to continue our biodesign project after competing in and receiving our first funding from the Columbia Venture Competition, and we couldn't have started Neopenda and gotten this far without the encouraging support from Columbia.
—Sona Shah, MS '16, Co-Founder & CEO, Neopenda
---
The Master's degree program in the Department of BME provides students with unparalleled training and mentorship in medical technology innovation and entrepreneurship. Many of the students entering our Master's degree program are seeking careers in industry or at smaller start-up companies. Project-based courses in the design and commercialization of medical innovations offered by the Department of Biomedical Engineering, complemented by courses offered by other departments and schools, including the
Columbia Business School
and Columbia University Medical Center, provide students with a rich interdisciplinary educational experience. Master's students have the opportunity to take advantage of the Department's
biomedical accelerator program
and the rich entrepreneurial ecosystem at Columbia University, gaining access to experienced alumni and executives in the New York City community, participating in pitch competitions, and
even launching their own start-up companies
based on technologies first conceived in their courses. Students can also capitalize on the
School of Engineering's entrepreneurship efforts
. Graduates of our Master's degree program are able to contribute to and drive medical innovation and support the promotion, development, and realization of the clinical potential of translational research.
Open to Students with Diverse Training and Backgrounds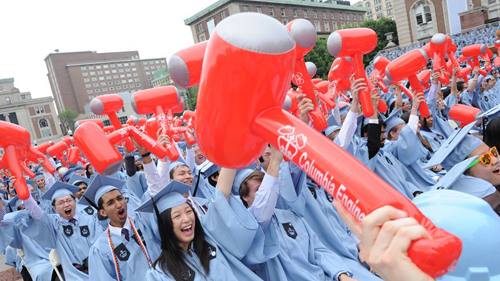 ---
I chose Columbia BME for the inspiring faculty, the research opportunities that reflected my own interests in the field, and the flexibility of the curriculum. As someone coming from a non-engineering background, like many of my fellow classmates, this program has allowed me to develop a strong engineering foundation by giving me the freedom to select courses that reflected my specific needs, while continually offering guidance and mentorship during this transition. Columbia BME encourages networking and diversity within our own department, as well as collaboration between departments, creating an atmosphere of innovation and opportunity throughout the university.
—Liz Hulphers, MS '16
---
Master's degree students in the Department of BME come from diverse training, including research and industry, and backgrounds, including sciences (such as physics, chemistry, and biology), mathematics, and several fields of engineering (such as mechanical, electrical, and chemical engineering). The program offers a flexible curriculum that allows students interested in transitioning into biomedical engineering the opportunity to individualize their experience and complete the necessary requirements to prepare for advanced study at the graduate-level. Master's degree students work closely with their Faculty advisor to identify courses and research/project experiences that will allow for a seamless transition into the field of BME. The program also provides excellent preparation for students interested in transitioning into the health sciences and the study of medicine.