Outstanding BME Graduates Honored
May 23 2019
On Wednesday, April 24th, 2019, Columbia Engineering deans, faculty, and alumni gathered to celebrate the accomplishments of outstanding students. 4 undergraduate and 6 graduate students in Biomedical Engineering Class of 2019 graduates were honored at the Awards of Distinction Dinner. Biomedical Engineering Departmental Awards were also announced on May 20th, 2019, at Class Day. 
Undergraduate Student Awardees  
Rachel Alexander: Scholar Athlete Award  
This award is presented by the Office of the Dean to a graduating Columbia Engineering student who has distinguished himself or herself as a varsity athlete and scholar.  
Janice Chung: Salutatorian, Richard Skalak Memorial Prize    
The Richard Skalak Memorial Prize was founded in recognition of the pioneering contributions of Richard Skalak to the development of the biomedical engineering program at Columbia University. Dr. Skalak was an inspirational teacher and scholar who taught students and colleagues to appreciate the value of broad interactions between engineering and medicine, particularly in the fields of cardiovascular mechanics, tissue engineering, and orthopedics. The Richard Skalak Memorial Prize is awarded annually to a senior biomedical engineering student who exemplifies the qualities of oustanding engineering scholarship and breadth of scientific curiosity that form the basis for lifelong learningand discovery.   
Rachel Mintz: Claire S. and Robert E. Reiss Prize   
This award is given by Robert E. Reiss, B.S. '66, and his wife, Claire S. Reiss to the graduating senior(s) in biomedical engineering judged by the faculty of the program as most likely to contribute substantially to the field. 
Stephanie Rager: Jaffe Prize   
Awarded by the engineering faculty to undergraduate and graduate engineering and applied science students who exhibit exceptional curiosity toward the engineered world and a predisposition toward inventiveness and novel problem solving in both theoretical and physical contexts. Preference is given to students whose endeavors are directed toward the betterment of the human condition, as was the life work of Bernard Jaffe '38, '39. The Jaffe Prize is made possible by Fern Jaffe.  
Graduate Student Awardees  
Megan Armstrong: Columbia Engineering Alumni Association Distinguished Student Leadership Award (Graduate), Graduate Student Speaker  
 Established in memory of Charles Kandel, Class of 1911, this award is presented annually by the Columbia Engineering Alumni Association Board of Managers to a graduating senior who has promoted the School's best interests, participated in co-curricular and student-alumni affairs, and demonstrated a deep respect for and commitment to the traditions of Engineering alumni.  
Andrea Campi : Graduate Student Life Award (PhD)  
Graduate Student Life Award honors students whose participation and involvement at Columbia has enhanced the spirit of graduate life on campus, creating a more purposeful, caring, and celebrative community.  
Eben Estell, Yeh-Hsing Lao, Milos Spasic : Yuen-huo Hung and Chao-chin Huang Award in Biomedical Engineering  
Given to graduate doctoral students who have demonstrated potential for making significant contributions to the fields of biomedical engineering and public health, and for serving as ambassadors of biomedical engineering.  
Yeh-Hsing Lao: Morton B. Friedman Memorial Prize for Excellence  
Named after the beloved professor and senior vice dean who was an integral part of Columbia Engineering for nearly 60 years, the prize honors doctoral graduates who exemplify "Mort's" legacy of academic excellence, visionary leadership, and outstanding promise for the future.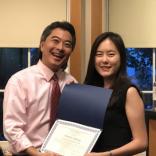 Professor Clark Hung and Salutatorian and Richard Skalak Memorial Prize winner Janice Chung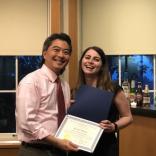 Professor Clark Hung and Claire S. and Robert E. Reiss Prize Awardee Rachel Mintz