Fourth Startup Columbia Festival Aims to Change the World, One Entrepreneur at a Time
Apr 27 2017 | By Jesse Adams | Photos by Timothy Lee Photographers
Amid an age of turbulence, visionary enterprises are transforming and solving immense global problems, according to an array of entrepreneurs, investors, engineers, academics, and journalists at the 4thannual #StartupColumbia festival April 13 and 14. In addition to experts exploring how young companies are taking on challenges like healthcare, climate change, and the profusion of "fake news" across social media, a range of startups from Columbia students and alumni competed for $250,000 of seed funding.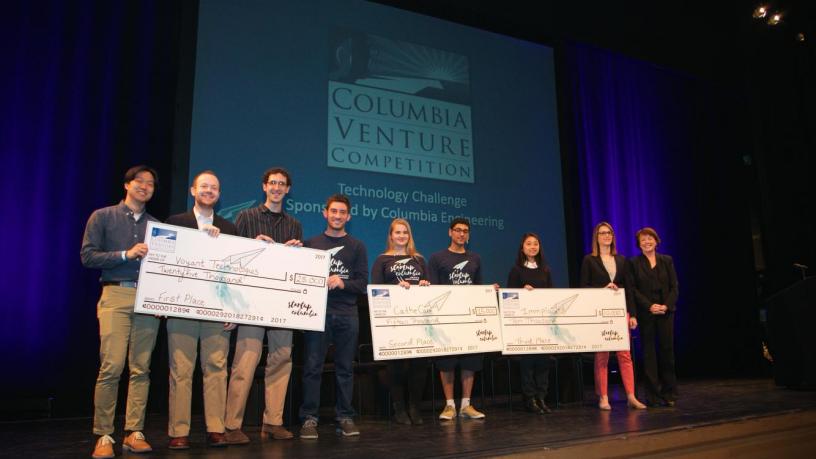 "You think your product is whatever you think it is, but it's OK to pivot to something grander," said keynote speaker will.i.am, an entrepreneur, innovator, advocate for STEM/STEAM education, and seven-time Grammy-winning global music artist. "The whole premise is to fail and learn."
He is founder of i.am+, a technology and fashion startup moving into the artificial intelligence space, and has served as director of creative innovation at Intel and chief creative officer at 3D Systems. The work helps fund extensive STEAM-focused philanthropy including after-school and college scholarship programs geared at bringing evermore diverse talent into industry.
"Be an artist by learning science or any other form of tech, be an artist with a mathematical skill set," will.i.am said. "Do it with the same swagger as if you were making beats. Do it with the same attitude as if you were making graffiti."
A panel moderated by Orin Herskowitz, executive director of Columbia Technology Ventures, examined the enormous expansion of venture capital and facilities for the life sciences in New York City over the past fifteen years. Professor Gordana Vunjak-Novakovic—co-founder of three biotechnology companies, director of Columbia's Laboratory for Stem Cells and Tissue Engineering, and recently a recipient of the University's highest academic honor—talked about her extensive partnerships with entrepreneurs, fellow researchers, and students in bringing groundbreaking regenerative medicine to the public.
Several speakers addressed how experts are approaching the climate crisis as governmental budgets for climate research face imminent cuts. Jeffrey Sachs, a University Professor at Columbia and a special advisor to former United Nations Secretary-General Ban-Ki Moon on goals for sustainable development, argued for sweeping changes in the industrial and agricultural sectors worldwide, while Adam Sobel, professor of applied mathematics and applied physics and of earth and environmental sciences as well as director and chief scientist of Columbia's Initiative on Extreme Weather and Climate, discussed the difficulty of focusing public attention on hugely complicated scientific research.
"Climate change contributed to Superstorm Sandy, and such events are harbingers of what's coming," Sobel said. "But it's difficult to give simple answers that are scientifically precise as well. Individual events can be a distraction from the big picture."
Others discussed how industry and academia are approaching the crisis in journalism, with social media feeding the proliferation of deceptive infotainment, and how entrepreneurs and advocates are working to welcome more female entrepreneurs and venture capital leaders.
Also in the spotlight were winning companies in the five categories of the $250,000 Columbia Venture Competition. First place winners received $25,000, second place brought home $15,000, and third place got $10,000 in prize money.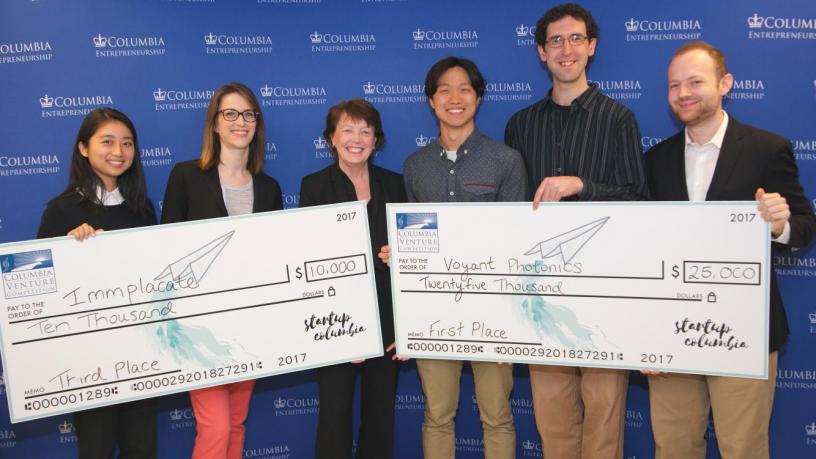 Dean Mary C. Boyce announced the winners of the Technology and Global Technology Track Awards, sponsored by Columbia Engineering. Voyant Photonics, from electrical engineering PhD candidate Chris Phare, took first in the Technology Track for offering a tiny, cheap laser radar for self-driving cars. Cathecare from Charles Pan '16SEAS, Aonnicha Burapachaisri '16SEAS, and Aishwarya Raja '16SEAS followed with second for their products sterilizing catheter hubs, while IMMPLACATE from Mariko Kanai '17CC and Holly Wobma '19CUMC took third for providing off-the-shelf stem cell therapy for immune disorders.
In the Global Technology Track Awards, Kheyti from Kaushik Kappagantulu '17BUS took first for innovating affordable greenhouses for smallholder farmers in the developing world, while Luso Labs from Ritish Patnaik '16SEAS won second for automated and accessible cervical cancer screenings and Allied Microbiota from Frana James '15SEAS took third for offering cheaper, more effective cleanup of various pollutants.
The Public Policy Challenge from Columbia's School of International and Public Affairs (SIPA), announced by Dean Merit E. Janow, had three co-winners who will each receive $15,000: FiveOne Labs from Sophia Burton '17SIPA, an incubator for displaced and conflict-affected entrepreneurs in the Middle East; HelmetStart from Olivia Marie Arguinzoni '17SIPA, which encourages motorcyclists in India to wear helmets; and I-Care from Xinwei Gao '17SIPA, which provides better medical data to senior citizens.
Unbound from Lorraine White '17BUS took first in the Startup Columbia challenge for her work empowering women through enhanced sexual wellness, followed by SleepAXIS from Saad Shaikh '17BUS and Salman Ali '17BUS and Mindr from Sarah Lux-Lee '16SIPA in second and third, respectively, for their work in improving sleep telemedicine and creating events for intellectually minded parents and babies.
In the Undergraduate Challenge, Palette from Alan Gou '17SIPA and George Liu '17CC placed first for their platform for getting more out of growth and marketing experiments, while NoMor from Chiara Vallini '17SEAS, Caroline Chiu '17SEAS, Hae Seong Kim '17SEAS, John Mavroudes '17SEAS, and Walid Rahman '17SEAS took second for developing an anti-tremor device for essential tremor patients. Following in third was Pencraft from Derek Netto '17SEAS, which offers a motion controller for mobile gaming.
StartupColumbia was organized by Columbia Entrepreneurship and the Columbia Organization for Rising Entrepreneurs (CORE) with support from Columbia Technology Ventures, the Columbia Alumni Association, SIPA, the Lang Entrepreneurship Center, Columbia College, Columbia Engineering Entrepreneurship, and generous sponsors.