Professor Elizabeth Hillman Wins BRAIN Initiative Grant for High Speed Microscopy Technique
Dec 01 2015 | By Holly Evarts | Image and Video courtesy of the Hillman Lab; Photo of Professor Hillman by Eileen Barroso;
The brain of a living 6-day old transgenic zebrafish. This entire image volume was acquired in 0.1 seconds. Red shows glutamatergic neurons while green is a fluorescent reporter of neural activity in mature neurons. Collaboration with David Schoppik and Marie Greaney, with fish developed by Abhinav Gramma.
"We are thrilled to receive this award from the NIH," says Hillman, who is also a principal investigator at Columbia's Mortimer B. Zuckerman Mind Brain Behavior Institute and a member of the Kavli Institute for Brain Science. "This grant solidifies SCAPE microscopy as a true breakthrough for neuroscience, and recognizes its broad applications across biology and medicine."
SCAPE (swept, confocally aligned planar excitation microscopy) has surpassed a speed barrier that until now has stood in the way of neuroscience and biomedical discovery. Whereas most modern microscopes can only image a single plane at up to 20 frames per second, Hillman's technique can image over 100 planes within a 3D volume in the same amount of time.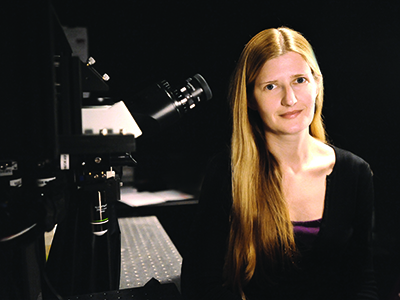 Professor Elizabeth Hillman.
"With SCAPE, we can finally image neurons as they talk to each other within a large volume of the brain. In small animals such as zebrafish and fruit flies, we can image the entire nervous systems all at once," Hillman explains. "As these tiny animals are crawling, behaving, even making decisions, we can see their whole brain in action." In addition, she notes that SCAPE is easier to use, and simpler and cheaper to build than competing technologies, giving it great potential for widespread use across the life sciences.
Hillman has been developing SCAPE for the past seven years, but first published the technique in Nature Photonics in February 2015. She has since been inundated with requests for systems, as well as collaborations, and is working hard to commercialize the technology.
"It has turned our lab upside down," she says. "People have been visiting us from all over the world, and we are building new systems and pushing to advance the technique as quickly as we can. Our new BRAIN initiative grant is going to make all the difference for getting this technology into the hands of scientists who can make amazing new discoveries using SCAPE."
Apical dendrites of layer 5 excitatory neurons expressing calcium-sensitive fluorophore GCaMP6 in an awake brain. SCAPE can capture spontaneous dendritic firing across a 600 micron square field of view to depths exceeding 250 microns at 10 volumes per second. Collaboration with Randy Bruno and Clay Lacefield.
Recently elected a fellow of the Optical Society of America in recognition of her "pioneering contributions to biomedical optical imaging, spectroscopy, and microscopy, particularly development of novel techniques to elucidate physiological function, and for outstanding service to the biomedical optics community," Hillman is already working with a wide range of local collaborators who are using SCAPE in their research. These include fellow Zuckerman Institute Principal Investigators Randy Bruno (associate professor of neuroscience, Department of Neuroscience), Richard Mann (Higgins Professor of Biochemistry and Molecular Biophysics, Department of Biochemistry & Molecular Biophysics), Wesley Grueber (associate professor of physiology and cellular biophysics and of neuroscience, Department of Physiology & Cell Biophysics), and Liam Paninski (professor, Department of Statistics), as well as Kimara Targoff (assistant professor of pediatrics, Department of Pediatrics), also at Columbia, and David Schoppik (assistant professor of otolaryngology, neuroscience and physiology) at NYU Langone School of Medicine.
"Hillman's SCAPE system enables us to do experiments that we only dreamed of before", says Schoppik, who studies the vestibular system in the zebrafish brain at NYU, "High-speed 3D imaging through a single objective lens means that we can actually image a moving fish and watch how its brain responds to body tilts, enabling it to balance."
Hillman's NIH BRAIN grant is one of five awarded this year for "Technologies for Large-Scale Recording-Modulation Optimization of Neural Activity." Sixty-seven new awards were made overall, totaling more than $38 million. These awards, the second wave of NIH grants to support the goals of the BRAIN Initiative, expand NIH's efforts to develop new tools and technologies to understand neural circuit function and capture a dynamic view of the brain in action. The Initiative is part of a Presidential focus aimed at revolutionizing our understanding of the human brain.
Hillman's SCAPE technology is available for licensing from Columbia Technology Ventures.