Columbia Team Baby Bloom Awarded $10,000 at Cisco Global Problem Solver Challenge
Jul 12 2017 | By Jesse Adams | Photo courtesy of Baby Bloom
A team of Columbia engineers and entrepreneurs recently received $10,000 in the Cisco Global Problem Solver Challenge for developing an Internet of Things device for personalized lactation management.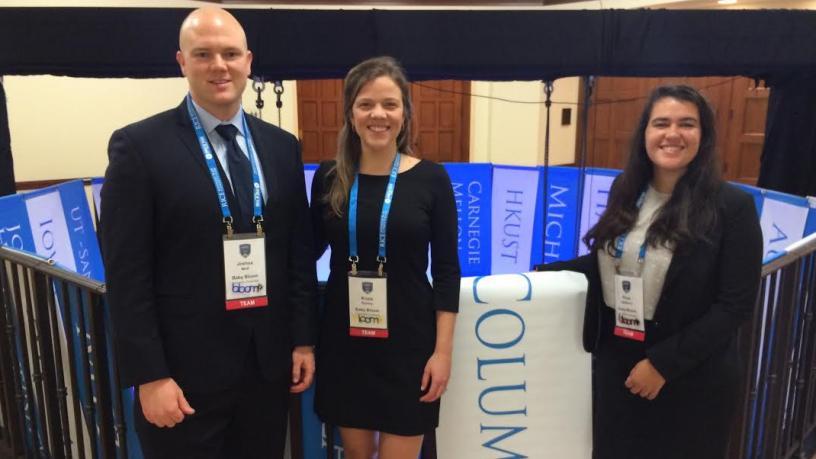 The team, Baby Bloom, includes PhD candidate Krista Durney, MS student Priya Medberry BS'17, Robert J. Nims PhD'17—all biomedical engineers—and Joshua Wolf '17BUS. Their Boost Smart Bottle and app track pumped breast milk and use machine learning to recommend optimal pumping patterns for lactating mothers.
"We reached out to 1600 moms for insight into their needs, and were amazed to discover that there are currently no smart products on the market that specifically support lactating moms," Medberry said. "There are around 4 million new moms each year, and many struggle to produce enough milk."
The new Cisco challenge, geared to support innovative technology solutions for the greater good, awarded a total of $300,000 for ideas that address a variety of human needs. Ten teams of students and recent graduates were chosen for their proposals' potential impact and readiness to market.
"Our team of biomedical engineering, business, and data science experts is dedicated to helping new parents raise happy and healthy families," Medberry said. "This is just the first in a portfolio of 'mom tech' products we're working on."
The prize will help Baby Bloom launch its first user trial this fall. They invite breastfeeding mothers interested in participating to get in touch at watchmybabybloom@gmail.com and @MyBabyBlooms on Twitter.