Innovation and Entrepreneurship
Neopenda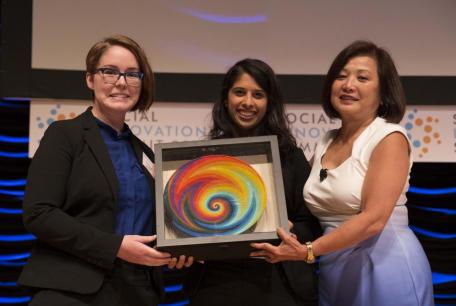 Teresa Cauvel '16SEAS and Sona Shah '16SEAS receive The Wireless and Mobile Innovation for Global Impact Award at the 2016 Social Innovation Summit.
Co-founders Teresa Cauvel '16SEAS and Sona Shah '16SEAS founded Neopenda to address a massive global health challenge: Too many critically ill newborns are dying from preventable causes in low-resource settings, often times because hospitals are severely understaffed and there is no equipment to help identify a newborn in distress. [learn more]
Kinnos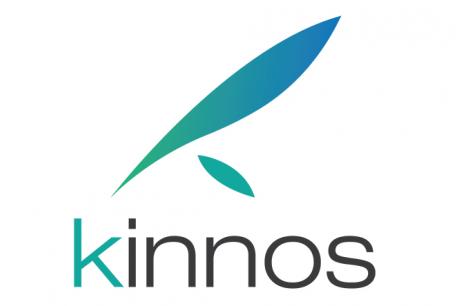 Kinnos was founded to protect our healthcare workers and patients. During our junior year of college in October 2014, we joined Columbia's Ebola Design Challenge to help fight the Ebola crisis in West Africa, and so the first prototype of Highlight® was born. Since then, we've recognized the urgent need to improve decontamination for both epidemic response and daily disinfection and the tangible impact Highlight® can have around the world. Our goal is to empower healthcare workers and patients to protect themselves and others, eliminate human error during decontamination, and prevent the unnecessary loss of life. [learn more]
Funding
The Columbia Biomedical Engineering Technology Accelerator (formerly the Columbia-Coulter Translational Research Partnership) aims to catalyze the advancement of biomedical technologies by providing funding, education, resources and mentorship to teams of clinicians, engineers and scientists working to develop solutions to clinical unmet needs, with the ultimate goal of bringing innovative research out of the lab to benefit society.
Project support is expected to serve as a bridge to commercial investment, with awards granted to perform specific tasks needed to validate a commercial hypothesis (vs. a scientific hypothesis). Regardless, award recipients are encouraged to submit their funded research outcomes for publication in academic journals.
Funding for the program has been generously provided by the Dept of Biomedical Engineering at the Fu Foundation School of Engineering and Applied Science, the Depts of Surgery, Orthopedic Surgery and Radiology at Columbia University Medical Center, and Columbia Technology Ventures, the technology transfer office of Columbia University.
Business experts
CTV's Executives in Residence (XIR) Program aims to connect Columbia inventors and technologies with seasoned industry executives, venture capitalists, and serial entrepreneurs. By doing so, we hope to leverage the deep domain expertise of these individuals to help accelerate the path of these promising technologies towards market success. XIRs are encouraged to develop close ties with our inventors, entrepreneurs, and technology transfer team in order to help Columbia further develop these technologies. If you are a Columbia researcher and would be interested in meeting with a CTV XIR, please email techventures@columbia.edu.
Columbia Entrepreneurship
Columbia Entrepreneurship, Innovation, and Design ("Columbia Entrepreneurship") was founded in the summer of 2013 at the direction of University President Lee C. Bollinger and the University Board of Trustees to support, invigorate, accelerate, and motivate the Columbia community's programs and culture around innovation, creativity, and entrepreneurship.
The ecosystem around entrepreneurship at Columbia is vibrant, brilliant, and cutting edge. At the very heart of Columbia Entrepreneurship's mandate is to find ways to take advantage of the enormous power, vitality, and resources of the entire University so that, indeed, the whole of our energies is much greater than merely the sum of the parts.
SEAS Entrepreneurship
Supports students, faculty, and alumni (from SEAS and across the university) at all stages of innovation and entrepreneurship activities. Resources include: