BME BREAKS: Weekly Webinar Series hosted by Columbia Department of Biomedical Engineering
Jun 22 2020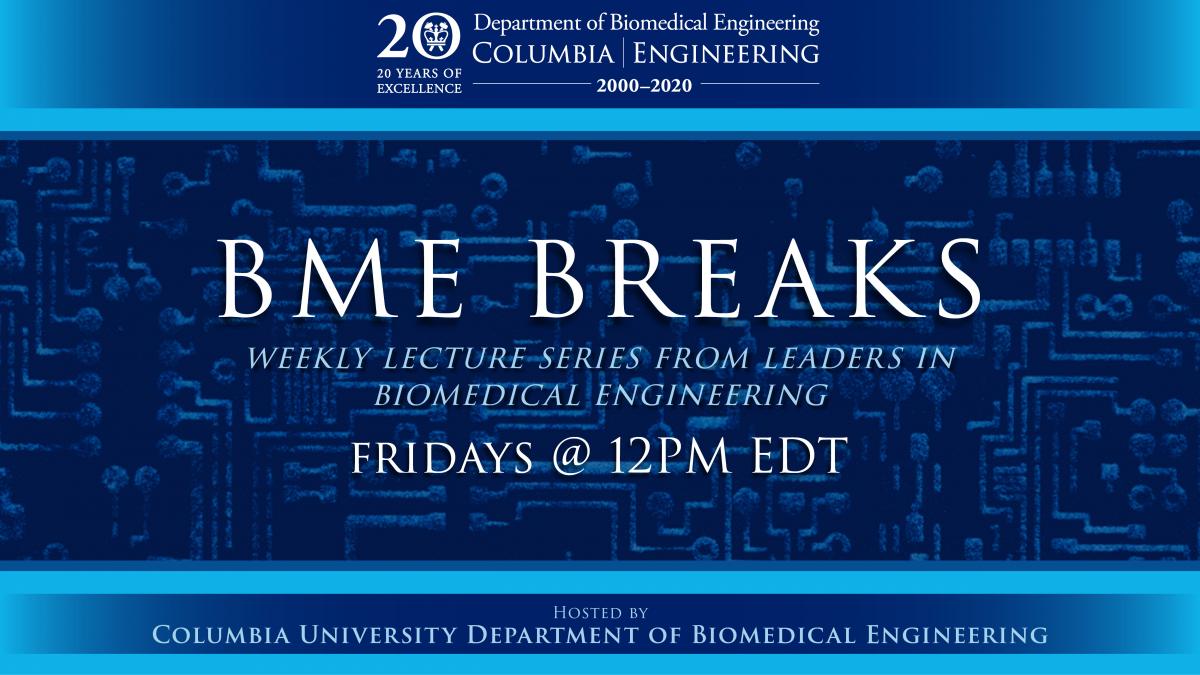 Join us every Friday at 12:00 p.m. EDT for BME Breaks, Columbia University's weekly webinar series hosted by the Department of Biomedical Engineering. Don't miss the opportunity each week to hear from global leaders in Biomedical Engineering research!
REGISTER NOW FOR THE JULY 17 WEBINAR WITH GORDANA VUNJAK-NOVAKOVIC!
ABOUT THE JULY 17 WEBINAR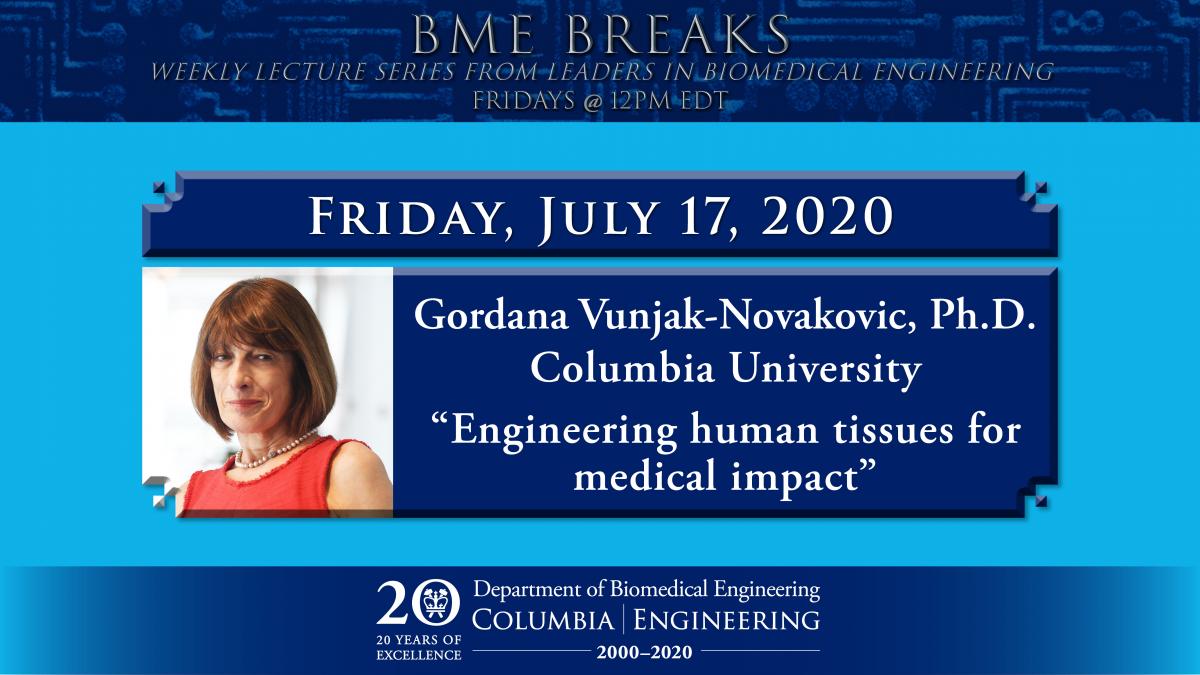 Engineering human tissues for medical impact
Tissue engineering is increasingly successful in recapitulating the patient-specific milieu of tissue development, regeneration and disease. Living human tissues are now being engineered from adult human stem cells, and tailored to the patient and the condition being treated. The same principles are being applied to whole organ engineering (bone, lung, heart) and microfluidic "organs on a chip" platforms for modeling integrated human physiology in health and disease. This talk will discuss some recent advances in engineering human tissue for basic research and clinical translation.
Gordana Vunjak-Novakovic, PhD
Columbia University
Gordana Vunjak-Novakovic is University Professor, the highest academic rank, as the first engineer in the history of Columbia to receive this distinction. She is also the Mikati Foundation Professor of Biomedical Engineering and Medical Sciences, and a faculty in the College of Dental Medicine. The focus of her research is on engineering functional human tissues for regenerative medicine and study of development and disease. She was elected to the Academia Europaea, Serbian Academy of Arts and Sciences, the National Academy of Engineering, the National Academy of Medicine, the National Academy of Inventors, and the American Academy of Arts and Sciences.
BME BREAKS SCHEDULE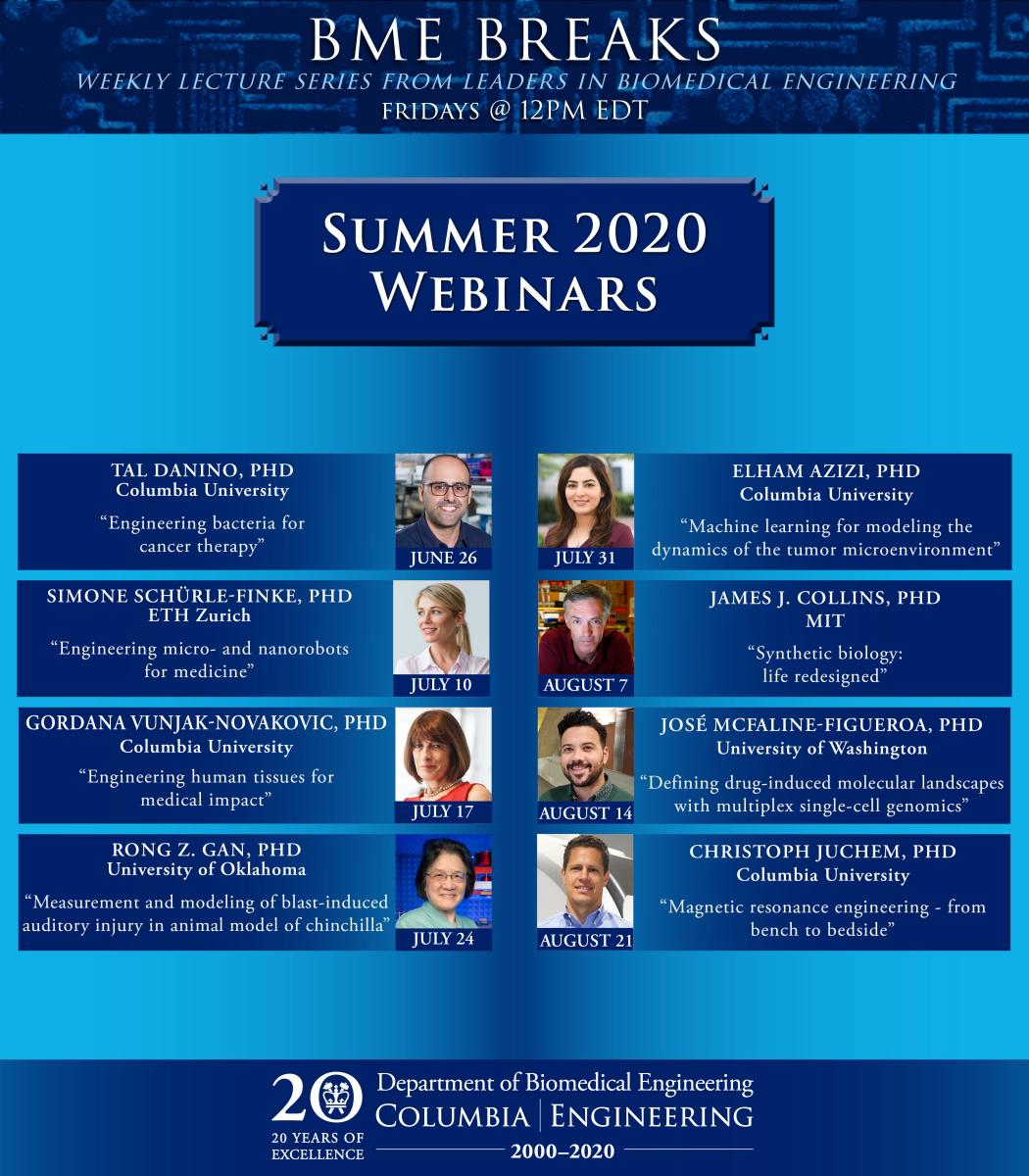 (CLICK IMAGE TO ENLARGE)
June 5 - Nandan Nerurkar, PhD, Columbia University BME
"Mechanobiology of vertebrate gut morphogenesis"
June 12 – Benjamin Izar, MD, PhD, Columbia University Irving Medical Center
"Systematic dissection of the tumor-immune synapse"
June 22 (DATE CHANGED) - Christopher J. Hernandez, PhD, Cornell University
"New insights in bone fragility and mechanobiology of bacteria"  
June 26 – Tal Danino, PhD, Columbia University BME
"Engineering bacteria for cancer therapy"
July 10 - Simone Schürle, PhD, ETH Zürich
"Engineering micro- and nanorobots for medicine"
July 17 - Gordana Vunjak-Novakovic, PhD, Columbia University BME
"Engineering human tissues for medical impact"
July 24 - Rong Gan, PhD, University of Oklahoma
"Measurement and modeling of blast-induced auditory injury in animal model of chinchilla"
July 31 - Elham Azizi, PhD, Columbia University BME
"Machine learning for modeling the dynamics of the tumor microenvironment"
August 7 - James J. Collins, PhD, MIT
"Synthetic biology: life redesigned"
August 14 - José McFaline-Figueroa, PhD, University of Washington  
"Defining drug-induced molecular landscapes with multiplex single-cell genomics"
August 21 - Christoph Juchem, PhD, Columbia University BME
"Magnetic resonance engineering - from bench to bedside"