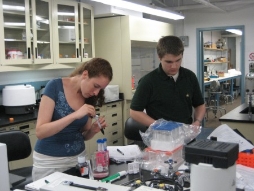 Undergraduate Wet Lab
Undergraduate laboratory experiments are designed to acquaint students with methods of acquiring, treating, and reporting quantitative information that characterizes the state of living systems. The undergraduate wet-lab teaching facility is located on the third floor of Engineering Terrace and provides a state-of-the-art, hands-on teaching facility. Some laboratory exercises will also take place within the premises of the university's affiliated hospitals.
The layout of the lab includes three general-purpose student lab benches plus a tissue culture bench. The lab provides students with the facilities to perform sterile cell and tissue culture: a NuAire biological hood and Napco CO2 incubator. The Olympus Fluoview confocal laser scanning microscopy system includes an Olympus IX70 inverted microscope, heating stage, DIC optics, various objective lenses, transmitted light detector, argon and krypton lasers, Fluoview software and workstation. A black-out curtain can be drawn for light sensitive applications.
Other equipment includes an Instron Dynamite 8800 materials testing system, multiple Olympus CKX41 inverted microscopes with imaging and fluorescence capabilities, uv-vis spectrophotometer, freezing point osmometer, glass viscometers, centrifuge, vortexers, vacuum chambers, waterbath, pH meter, conductivity meter, syringe pumps, magnetic gear head pumps, peristaltic pumps, parallel-plate flow chambers, refrigerator, freezer, pipetters, sphygmomanometers, and analytical balances. Signal acquisition capabilities include bioelectric and EKG signal conditioners, and strain gage signal conditioners. Data from instruments in the wet laboratory can be analyzed using any of multiple data acquisition boards and laptop computers.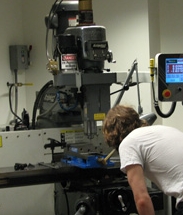 Design and Fabrication Capabilities
In the senior capstone design course, students will utilize the tools of a prototyping lab and machine shop. The prototyping lab includes a desktop milling machine, lathe, belt sander, grinder, drill press, and various hand and power tools. In terms of electronics, the lab contains a compliment of breadboards, electronic components, multimeters, oscilloscope, wave function generator, and various instruments for acquiring, conditioning, and recording signals. The machine shop includes a vertical Bridgeport/Hardinge 3-axis CNC milling machine and a Hardinge HLV Toolroom Lathe. There is also a drill press, belt sander, and bandsaw.

Computational Teaching Laboratory
The Computational Teaching Laboratory is configured as an electronic classroom with integrated videoconferencing capabilities and is equipped with 25 DELL Optiplex desktop computers running a variety of software applications. These computers are connected over a 1 Gigabit/second network to an IBM 346 server for user management, a 1 Terabyte Snapserver for file sharing, and an Exabyte tape library for data backup.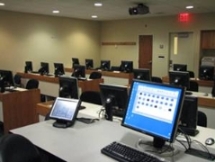 An instructor's console with built-in PC and touch panel display controls all electronic classroom functions, including: DVD/VCR/CD player, videoconferencing equipment, projection screen, room lighting, and an LCD projector. Classview software allows the instructor to view and control the student desktop machines, display the console PC desktop on the student machines, and display individual student desktops on the LCD projector.
Every computer is configured with a full complement of software necessary for all undergraduate course requirements, and includes Windows 7 Professional Operating System, Microsoft Office 2010, Microsoft Project Manager, Internet Explorer, Scion Image, Matlab R2012, and Solidworks 2012.
Other Teaching Space
In addition to the dedicated undergraduate BME laboratories, students taking the required BMEN 3840 (Spring semester Senior laboratory) course utilize space and equipment at the Columbia University Medical Center (CUMC) for lab experiments related to (1) MRI and SMRI: a dedicated research MRI unit at CPMC and (2) 2D and 3D cardiac ultrasound units at CPMC. A Rapid Prototyping Machine in Professor Peter Allen's laboratory (Department of Computer Science) and another in the Department of Mechanical Engineering are available to BME students.