In the senior year, all BME students are required to take a two-semester capstone course: Biomedical Engineering Design. Students work within a team to tackle an open-ended design project in biomedical engineering. The class builds upon all previous BME coursework, and also includes industrial elements such as entrepreneurship, market research and regulatory considerations. Every project is mentored by at least one BME faculty member. Students end their final semester with a demonstration of their prototype device and are judged by a panel of faculty and invited guests from industry.
(Course instructor: Dr. Aaron Kyle)
CLASS OF 2014 PROJECTS
Projects from Previous Years
CLASS OF 2013
Allosense
Innovators in food allergen detection

BabyBreath
Supplemental oxygen for infants

EPiLARM
Reliable seizure detection devices

Koolinda
Protection for your vaccines

Laparoclean
Solution to cleaning laparoscope lens

Mbubye
Mosquito trap distributed by humanitarian organizations


Pronostics
Promotion of posture to relieve back pain

OddSquad
Preventing pressure sores

Ontrack
Improving postoperative knee injury rehabilitation

SpinatapTech
Safe collection of cerebrospinal fluid in infants
CLASS OF 2012

SoundPlay
Advisor: Prof. Olson
VoiceCount Surgical
Advisor: Prof. Sia
NewRevolution
Advisor: Prof. Guo
Oralieve
Advisor: Prof. Morrison
EzTrach
Advisor: Prof. Hess
Nuruvin
Advisor: Prof. Jacobs
IncuVive
Advisor: Prof. Kam
Tampostat
Advisor: Prof Huang
CLASS OF 2011

ArterReach
Femoral artery access
Advisor: Prof. Ateshian
Bundled Up
Neonatal devices
Advisor: Prof. Hung
ImagineLabs
Autism therapy
Advisor: Prof. Huang
JaundiCure
Jaundice phototherapy
Advisor: Prof. Sia
JondeKin
Jaundice detector
Advisor: Prof. Hielscher
REBL
Ventriculoperitoneal shunts
Advisor: Prof. Hess
SurgiTherm
Surgical patient body heat maintenance
Advisor: Prof. Vunjak-Novakovic
Uzima
Neonatal vital signs monitor
Advisor: Prof. Kam
ClASS of 2010
Soundspy
Assistive headphones
Advisor: Prof. Huang
Stead-Ease
Tremor reducing device
Advisor: Prof. Hung
Procar
Smart trocar
Advisor: Prof. Ateshian
AsthmaID
Asthma tracking device
Advisor: Prof. Kam
debrideX Surgical
Advanced ENT surgical tool
Advisor: Prof. Hess
StillRad
Radiation Oncology head restraint
Advisors: Profs. Jacobs/Laine
BornReady
Ventilator for developing world
Advisors: Profs. Sia/Po/Polin
Cervetics
Smart cervical dialator
Advisor: Prof. Hung
Pro Knee
Advisor: Prof. Sajda
CLASS OF 2009 PROJECTS
UriPatch
Hydration monitoring device
Advisor: Prof. Clark Hung
Infranostics
Breast Imaging / monitoring technology
Advisor: Prof. Andreas Hielscher
smArt Maps
SMA Motion tracker
Advisor: Prof. Elisa Konofagou
Swim Sense
Anti-drowning device
Advisor: Prof. Gerard Ateshian
GlucoVision
Advisor: Prof. Christopher Jacobs
The Heat Elite
Wireless core body temperature and heart rate monitor
Advisor: Prof. Lance Kam
Hearing Mate
Assistive device for the hearing impaired
Advisor: Prof. Elizabeth Olson
Green Dot
Refrigerator accessory for pharmaceutical storage
Advisor: Prof. Samuel Sia
Graviance
Gravity Neutral Orthotic for SMA children
Advisor: Prof. Barclay Morrison
iTrek
Spatial / Audio encoder for the visually impaired
Advisor: Prof. Edward Guo
CLASS OF 2008 PROJECTS
Drug delivery device incorporating EKG-based monitoring and event prediction.
Advisor: Prof Kevin Costa.
Concussion-predictive device for young athletes.
Advisor: Prof Ed Guo.
Gravity-neutral orthotic for children with spinal muscular atrophy.
Advisor: Prof Barclay Morrison
Pill dispenser, organizer and scheduler (National Design Competition).
Advisor: Prof Lance Kam
Exercise-cycle based evaluation of ACL repair.
Advisor: Prof Clark Hung

Wireless foot pressure / roll sensor for runners
Advisor: Prof Paul Sajda
Neonatal ventilator for developing countries.
Advisor: Prof Sam Sia
Motion-capture system for evaluation of children with spinal muscular atrophy.
Advisor: Prof Elisa Konofagou
*Participating in the RERC-AMI Senior Design Competition http://www.rerc-ami.org/ami/projects/d/2/2/announce/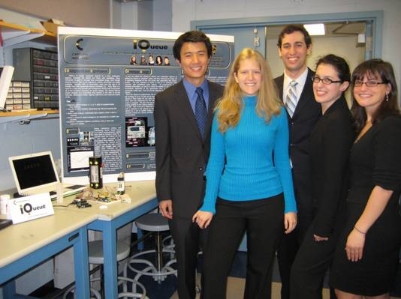 IQueue won second place in the RERC-AMI Senior Design Competition 2008.
(Course instructors, Prof. Elizabeth Hillman and Prof. Gordana Vunjak-Novakovic)